(Tucson, AZ)  Monday night's game between Salpointe and Amphi featured a wealth of talent from Amphi's Jackson Ruai to Evan Nelson and Majok Deng of Salpointe Catholic. Both teams came into Monday night's game ranked in the top ten of the 4A Kino Division.
From the opening tip Salpointe was playing with energy and poise which is a dangerous combination for an opposing team playing on the road.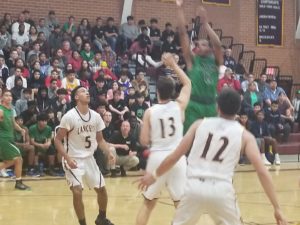 Amphi would soon realize what type of game they were in for as the Lancers jumped up quick to a 17 to 7 lead. Salpointe's Evan Nelson was feeling it from the start of the game and was scoring at will. He was a floor general out on the court setting his teammates up for easy opportunities at the rim.
Besides great individual performances, Salpointe made Amphi work on defense by passing the ball 4 or 5 times before taking a shot. This wore down the Panthers and forced them to play defense for 24 to 30 seconds each position. The Panthers struggled offensively all night as they couldn't find a clear path to the basket.
At the end of the first half the Lancer's Nelson had 25 of his team's 49 points, ajd out scored Amphi in the half.  The halftime score was 49-23 going into the locker-room. Salpointe dominated the first half.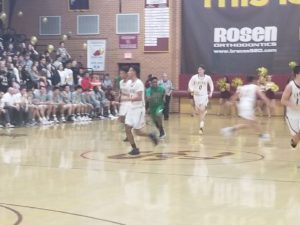 One key player didn't see the court the first half which was Salpointe's Majok Deng who was forced to sit out due to a technical foul the previous game. Deng has committed to play at Pepperdine University in Malibu, CA.
It was much of the same in the second half as the Lancers didn't let off the gas pedal. Head Coach Jim Reynolds said after the game that the team has to get better on defense as a unit if they want to go as far as possible.
Nelson would finish the contest with 36 points 5 assists 3 rebounds and 2 steals. It was clear as to why Nelson is so highly regarded amongst his peers and others. Even though the Amphi Panthers didn't win the game Ruai had a very solid night finishing with 13 points and 17 rebounds.
Salpointe Catholic with a decisive home court advantage rolled 80-63.
Salpointe's season finale is Tuesday night at Vista Grande. The playoff matchups will be announced later in the week.