(Tucson, AZ)  The Pima Community College baseball team (7-1) earned a sweep in Saturday's doubleheader at El Paso Community College.
Aztecs starting pitchers Adam Moraga (Sunnyside HS) and Austin Bryan (Sahuarita HS) pitched two gems and combined for 20 strikeouts.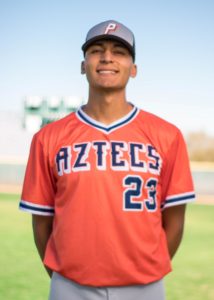 Game 1: Pima CC Aztecs 6, El Paso CC Tejanos 3: The Aztecs rallied from a 3-1 deficit to score five unanswered runs.
Freshman Stockton Pringle (Sahuaro HS) tied the game at 3-3 with his RBI hit. The Aztecs took the lead in the 7th when Sikes scored on an error. Sophomore Fabian Ferreira (Tucson HS) hit an RBI single to score fellow sophomore Enrique Porchas (Kofa HS) and sophomore Matthew Hackman (Empire HS) scored on a passed ball.
Freshman Brian Romero (Canyon del Oro HS) went 1 for 4 with two RBIs while Sikes was 1 for 3 with three runs scored.
Moraga, a sophomore, picked up the win (2-0) as he pitched a complete-game giving up three runs (two earned) on eight hits with 10 strikeouts.
PCC      1 0 2 0 0 0 3   6 6 1
EPCC   2 1 0 0 0 0 0   3 8 3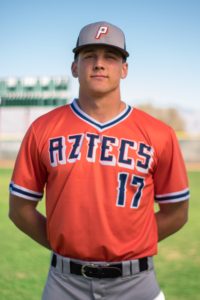 Game 2: Pima CC Aztecs 2, El Paso CC Tejanos 0: The Aztecs broke a scoreless tie in the 6th inning as Bryan and Sikes took over on the mound.
Porchas drove in pitch runner JJ Rollon (Skyline HS) with an RBI single. Porchas later scored on a passed ball. He finished 1 for 2 with an RBI, a run scored and a walk. Freshman Cole Cummings was 3 for 3 with two doubles.
Bryan, a sophomore, picked up the win (2-0) as he threw six innings giving up four hits with 10 strikeouts and three walks. Sikes picked up his second save of the season as he struck out the side in the 7th to end it.
PCC     0 0 0 0 0 2 0    2 6 0
EPCC  0 0 0 0 0 0 0    0 4 2
The Aztecs will play four games in Henderson, NV on Friday and Saturday. They will play a doubleheader against the College of Southern Nevada on Friday. First pitch is at 4:30 p.m.
Courtesy of Pima Athletics