(Tucson, AZ)  The Pima Community College men's basketball team (16-5, 9-4 in ACCAC) found its offensive rhythm on Saturday at Eastern Arizona College (12-8, 5-8).
The No. 12 ranked Aztecs got back to the triple digits in scoring as they beat Eastern Arizona College 118-99.
Sophomore Abram Carrasco (Cholla HS) scored a team-high 30 points and surpassed 1,000 points for his Pima career. He came into the game with 981. He scored 598 points last season and now sits with 1,011 total. He went 13 for 21 from the field and finished with seven rebounds and seven assists.
"It was amazing. There was a packed crowd it was hyped," Carrasco said. "Peabody has been testing me a lot more and I feel more comfortable within myself. Our team is clicking every game."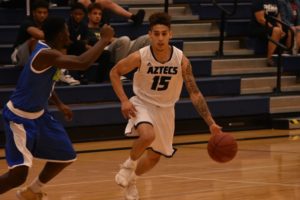 Carrasco didn't hesitate when he discussed what he wanted the next milestone to be.
"We want to host the (ACCAC Division II) tournament in our house. We need to win the rest of our games."
The Aztecs took a 49-38 lead at halftime and outscored the Gila Monsters 69-61 in the second half.
Sophomore Robert Wilson (Salpointe Catholic HS) finished with his 10th double-double of 29 points and 14 rebounds while freshman Rashad Smith (Hamilton HS) also collected a double-double of 22 points and 11 rebounds.
Freshman Jordan Robinson (Tucson HS) and sophomore Davonte Eason (Tucson HS) each scored 12 points.
The Aztecs will return to the West Campus Aztec Gymnasium on Wednesday when they host Arizona Western College. Tipoff will be at 7:30 p.m.
PCC   49   69   118
EAC   38   61    99
Courtesy of Pima Athletics