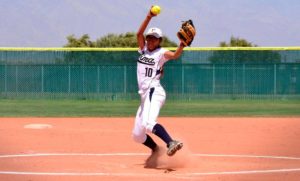 Tucson, AZ – The Pima Community College softball team (9-6, 6-3 in ACCAC) earned a split on Tuesday at the West Campus against GateWay Community College (1-7, 1-7).
Sophomore Courtney Brown (Flowing Wells HS) had a good day at the plate going 4 for 7 with three runs scored, a RBI and a triple.
Game 1: GateWay CC Geckos 5, (18) Pima CC Aztecs 3: The Aztecs were forced to play catch up and couldn't overtake the Geckos in the end.
Down 3-2 in the fifth inning, sophomore Margarita Corona (Tucson HS) and freshman Megan Flores (Salpointe Catholic HS) drew back-to-back walks. Sophomore Gabriela Trejo (Desert View HS) hit an RBI single to score pinch runner Chandler Arviso (Cibola HS) to tie the game at 3-3. The Geckos retook the lead in the sixth with two runs. The Aztecs left 10 runners stranded on base for the game.
The Aztecs surrendered three runs in the first inning but cut into the lead in the bottom half of the inning. Sophomore Courtney Brown (Flowing Wells HS) led off with a triple and scored on a lane violation from the GateWay pitcher. Sophomore Bailey Critchlow scored on an error to make it 3-2.
Brown went 2 for 4 with a run scored and a triple while Trejo finished 1 for 2 with an RBI.
Critchlow took the loss (5-3) after she pitched a complete game giving up five runs (three earned) on eight hits with four strikeouts and two walks.
Game 2: (18) Pima CC Aztecs 12, GateWay CC Geckos 0 (5 innings): The offense came alive for the Aztecs as they scored eight runs in the first inning. Flores hit a two-run RBI single to put Pima on board scoring Brown and Critchlow. Freshman Marissa Moreno (Desert Vista HS) and sophomore Mary Tom (Mountain View HS) drew back-to-back walks with the bases loaded. Critchlow capped off the inning with a bases clearing three-run RBI double.
Tom hit RBI singles in the second and third innings as she finished the game 2 for 2 with three RBIs. Critchlow went 3 for 3 with three RBIs and two runs scored. Flores was 1 for 2 with two RBIs and a run scored. Trejo went 2 for 3 with three runs scored while Brown finished 2 for 3 with two runs scored and an RBI.
Sophomore Luisa Silvain (Cholla HS) picked up the win (1-0) as she threw all five innings giving up no runs on two hits with three strikeouts and two walks.
The Aztecs continue their home stand on Thursday when they host Colorado Northwestern Community College in a non-conference doubleheader. The games will be at 1:00 and 3:00 p.m.