(Tucson, AZ)  Pima Community College women's basketball player Sierra Mich'l (Desert Oasis HS, NV) had a dominating performance last Saturday at Eastern Arizona College.
Mich'l, a sophomore forward, was named ACCAC Division II Player of the Week for the week of March 22-28 after she dropped 27 points (15-17 from the free throw line) with seven rebounds and nine blocks in Pima's 84-80 loss to the Gila Monsters.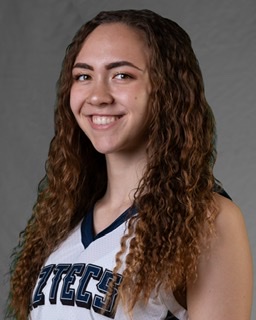 In four games recorded, Mich'l averaged 14.3 points, 5.3 rebounds, 4.8 blocks and 1.0 steal per game. She had a double-double of 14 points, 10 rebounds to go along with four blocks in Friday's 83-68 win over Cochise College.
The Aztecs await their opponent for the NJCAA Division II Southwest District Championship Game. It will be played on Friday at 6:00 p.m. (MST).
See Mich'l ACCAC Player of the Week honor on the ACCAC website:
https://accac.org/general/2020-21/releases/20210402g42w6f
Press Release courtesy of Pima Athletics – Raymond Suarez