(Tucson, AZ)  Pima Community College women's basketball player Hallie Lawson (Campo Verde HS) helped lead the Aztecs to two victories last week and earned ACCAC conference recognition.
Lawson, a sophomore forward, was named ACCAC Division II Player of the Week on Tuesday for the week of Dec. 6-12.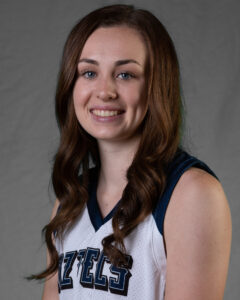 The Aztecs defeated Arizona Western College 72-67 and Tohono O'odham Community College 81-74. Lawson capped off the week by scoring 20 points against the Jegos. She averaged 16 points and went 15 for 26 (.577) from the field to go along with 13 rebounds, four assists and one steal.
Lawson is averaging a team-best 14.4 points along with 6.5 rebounds per game. She has played and started in all 10 games.
The Aztecs are 7-3 overall and 4-2 in ACCAC conference play. They are off until the Bruce Fleck Classic, which will be from Dec. 30-Jan. 1 at the West Campus Aztec Gymnasium. The Aztecs begin play against Arizona Christian University JV on Dec. 30 at 7:00 p.m.