(Tucson, AZ)  Senior Day at McKale Center for the Wildcat Volleyball Team.
Julia Patterson, Devyn Cross, Makenna Martin, EMI Pua'a and Shardonee Hayes were honored in a pregame ceremony.
Coming into the match, the banged up Wildcats wanted a win over cross state rival to go out on a winning note.
The Sun Devils won in three sets on September 26th in Tempe (25-20, 2t-16, 25-19).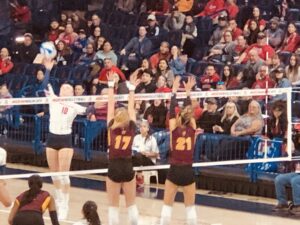 The Sun Devils came out strong and put Arizona on its heels to begin the match.
With the score 17-9, Paige Whipple smashed three consecutive kills to keep the Cats within striking distance to 17-12.
ASU and the Wildcats went back and forth but the lead still stayed in favor of the Devils.
The Cats staved off set point with a kill from Katie Smoot, but ASU got the next point to win the first set 25-18.
Martin started off Set 2 with a nice kill to get Zona off on the right foot. The Cats jumped out to a 3-0 lead before ASU scored.
Arizona's hitting percentage greatly improved and a 9-4 lead before the Devils stopped the run.
Whipple scored two consecutive kills forcing an ASU timeout. Cats were up 12-7.
Out of the timeout, a Cross blocked shot added to the Wildcats lead. Smoot added a kill and a dink and put Arizona up 16-8.
This set was all Arizona as the defensive adjustments made by Coach Dave Rubio and some key digs had the Cats run away 25-11 to even the match at 1-1.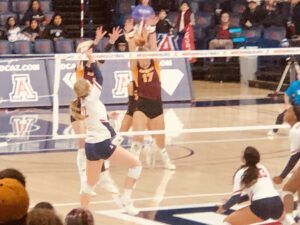 The third set started out even with sloppy play from both teams. ASU had the edge early at 8-4 and forced a Wildcat timeout.
Zona's Smoot came back with three quick points and drew the Cats within one point 8-7.
Smoot came down awkwardly on her ankle and went to the bench. The Devils took advantage of the injury and went up 15-11.
Smoot came back into the game and smashed a kill to bring the Cats  back to a 18-13 deficit.
ASU's lead grew to 20-13 but the Cats didn't give up and scored five consecutive points to get close at 21-18.
Neither team backed down as this rivalry game heated up and the 24-23 score showed. ASU called a timeout after failing on two set point attempts.
Whipple tied to the score at 24-24 with another kill, but a double error by Arizona let the set slip away. ASU was up two sets to one.
Fourth set started with a Smoot/Whipple attack and a quick 5-1 lead that grew to 9-2 and a Sun Devil timeout.
Paterson's ace increased the Zona lead to 12-4. ASU came back with two quick points to force a Wildcat timeout, 12-6.
The Sun Devils kept pecking away little by little to hang around 13-9. Rubio challenged a back line call that was ruled out and the call was reversed in favor of the Cats. Cats were now up 17-9.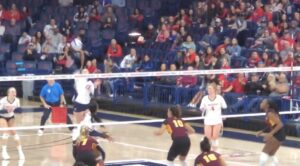 Cats on point down the stretch  with a 20-11 and an ASU challenge that stayed in favor of Arizona.
Devils tried to keep the game going got a point to keep their slim hopes alive 24-20.
The second set point for the Cats Whipple shut down ASU in the fourth set to even the match 2-2 sets and forced a winner take all fifth and final set.
Zona took at slim 4-2 early lead off a Cross "roof," but the Sun Devils came back to tie the set 4-4.
Each team traded points and at the midway break, the Cats maintained a 8-7 lead.
With seniors on both squads not wanting to finish their careers, the tension was mounting on each side.
Whipple kept the Wildcats alive with a kill and a roof to bring the score to 11-10 Devils and an ASU timeout.
Two consecutive points by Whipple and Cross gave Zona the lead 12-11.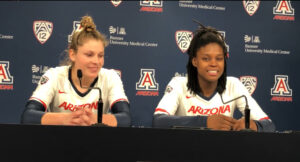 With the Devils tying it back up at 13-13, it was who wanted it more.
Whipple scored to set up a match point and the subsequent game winner was reversed on an ASU challenge. 14-14.
ASU had their upcoming match point challenged by Rubio which  was  upheld.
Smoot brought the Cats back even 15-15 but then  the Cats made an unforced error by serving out of bounds.
Thats all the Devils needed as they scored the next point to win the O match 3-2.
So what began as a season full of promise, this team went through more than their share of injuries to the starting lineup. These Cats finished strong and with a lot of grit and determination but with a heartbreaking loss.
Coach Rubio reiterated how much of a pleasure it was to coach this group of seniors and see them grow as athletes and students.
The sky is the limit next year as a new group of recruits come in with a lot of talent, but team chemistry and cohesiveness will also need to be key factors to make this team as special as the 2019 group.