(Phoenix, AZ)  The obvious sign that Grand Canyon is unifying and improving is having its largest blowout win of the season Saturday night for its seventh victory in the past nine games.
The more subtle sign that the Lopes have clicked on and off the court came in the final minutes of 71-47 victory against Chicago State.
Seldom-used freshman Ethan Spry was set up by GCU junior guard Isiah Brown's pass for a straightaway 3-pointer. The Lopes regulars rose in jubilation off the bench as Spry banked in the 3-pointer and they stayed on their feet through the next play, when Brown unselfishly paused on a fastbreak to set up the other favorite late-game substitution, sophomore Raef Gerdes, for an opportunity that earned his third point of the season on a free throw.
The Lopes (12-13, 7-4 WAC) are connecting on the court better than ever this season too, putting themselves in control of the WAC Tournament No. 2 seed with five-regular season games to go.
"I told our guys that's something they should be proud of, but by no means are we done," GCU head coach Dan Majerle said.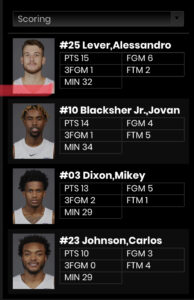 GCU has a half-game edge in the conference race on UT Rio Grande Valley (7-5), which it beat on the road and hosts on Feb. 29, and is a half-game behind California Baptist (7-3), which is not eligible for the WAC Tournament.
A week after posting the highest point total in the WAC this season, the Lopes allowed the fewest points in any conference game this season on Saturday night. GCU held Chicago State to 40.9% shooting and prompted 18 turnovers for the Lopes' second-lowest opponent scoring total of their seven-year Division I era.
GCU disrupted Chicago State with full-court pressure in the first half, when the Cougars only scored 18 points and GCU closed on a 12-2 run to lead 34-18 at the break. Chicago State turned hot to start the second half and pulled within six but the Lopes then shut out the Cougars for 4 ½ minutes to start a 21-5 run.
"Every game is a must-win since we are in the second half of the season," said GCU senior Carlos Johnson, who used power moves to score in double digits (10 points) for the 13th consecutive game. "We are just playing every game like one game at a time. We must win it and that is what Coach has been preaching. Coach is liking the way we have been moving the ball and everyone out there has been doing what they must do."
Lopes senior center Alessandro Lever scored a team-high 15 points on 6-for-11 shooting while freshman point guard Jovan Blacksher Jr. was deft with penetration and pump fakes for 14 points and five assists with two steals. GCU junior Mikey Dixon found his shooting touch at home, going 5 for 7 with a four-point play contributing to his 13-point, three-steal game.
GCU is playing more patiently on offense, moving the ball and moving off the ball more while taking to the coach's credo to make controlled moves off two feet instead of one. The result has been that the Lopes have made only eight turnovers in three of the past four games.
"I thought Isiah was really good," Majerle said of Brown, who tallied a season-high five assists and took two charges. "Jovan is excellent at it. He's really turned a corner that way and believes in it. That's why he's making it to the free throw line and plays for others. So when we do drive the ball, that's why we get to the free throw line a lot."
GCU drove the paint and used nine steals for fastbreaks to outscored Chicago State 36-16 in the paint and add another 14 points on free throws.
"We started off rough, but now we are starting to lock in and come together as a team when it matters," Dixons said. "I feel that we are in a good spot and a good space. We have great energy going and we are trying to finish the season strong."
The Lopes take their final road trip of the season with a Thursday game at Seattle and a Saturday game at Utah Valley before returning home to face WAC leader New Mexico State on Feb. 27.
"Where we are at is progress from Week 1, Week 2," Majerle said. "It is a big change. We are not comfortable where we are at, but we are hungry and we feel that we want more."
Article courtesy of Paul Coro – Grand Canyon Athletics