Four Wildcats scored in double-figures, with Aari McDonald leading Arizona with 19 points on 8-10 shooting. Helena Pueyopitched in 14 points off the bench and shot 4-6 from beyond the arc. Cate Reesescored 13 points and pulled down seven rebounds and Amari Carter made a pair of threes and finished with 10 points.
Arizona shot well from the field, making 49% of their shots and 50% (9-18) from three. On the other side, Washington turned the ball over 21 times and shot 38.8%. Dominique McBryde and Thomas each had four steals to lead Arizona.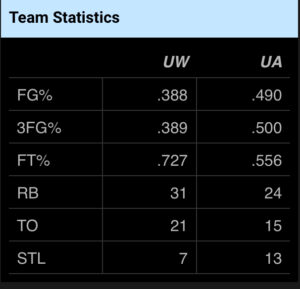 Player of the Game
Helena Pueyo – The freshman had been in a slump as of late, but broke out of it in a big way making her first four three-pointers of the game. She finished with 14 points off the bench, the most since Dec. 2 and a Pac-12 career-high.
By the Numbers
6 – Sam Thomas became the seventh player in Arizona history to block six shots in one game, a career-high for the junior.
61 – Aari McDonald has scored in double-figures in 61-straight games, the longest active streak in the nation.
13- Arizona finished the game with 13 steals and have had double-digit steals in five of their last seven games.
50 – Arizona shot 50% from three for the second time this season tonight (9-18).
20 – Arizona has won 20 regular-season games for the first time since the 2003-04 season.
Press Release courtesy of Arizona Communication Services/Adam Gonzales.