(Phoenix, AZ)  The Lopes came into tonight's contest with the Utah Valley Wolverines riding high on a three game winning streak.
These two teams knew each other very well as they've met twice in the last two seasons in the WAC Tournament semi-finals.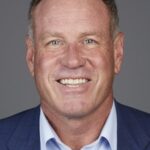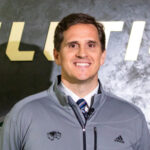 Both coaches were also very well acquainted. UVU's Mark Madden and Dan Marjerle both faced off twice in the NBA with the Lakers and Heat, both teams winning one game apiece.
GCU was leading the WAC in defensive field goal percentage with a 38.7%.
This three game winning streak is just what the doctor ordered after a lackluster loss to California Baptist back on January 11th.
The game starts with each team trading baskets and mostly on drives to the basket. The high percentage shots were evident as UVU shot 58% (11-19) and Grand Canyon shooting 53% (10-19) at the eight minute mark. Combined both teams. 3-16 from beyond the arc.
With. 5:32 remaining in the first half, Utah Valley got a little separation 30-25, the largest lead of the game.
The final minute the Antelopes drew within a basket and  went into the halftime locker  room only down 32-30.
Carlos Johnson led the Lopes with 11 points and Alessandro Lever added 9. The three point shot was almost non-existent with GCU going 1-9.
GCU's  2-3 zone defense was shredded by  TJ Washington  UVU's shooting guard. Once he penetrated inside the key, no one slid over from GCU's weak side.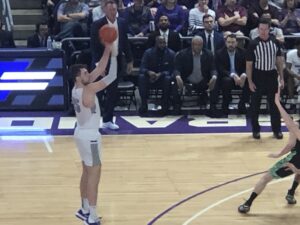 At the 16:26 mark, Mikey Dixon made the Antelope's second three pointer, but GCU still trailed 41-37.
Lever had  a  big put back off a miss to put GCU back within a basket 50-48 and a media timeout.
Out of the timeout, Johnson tool an alleyoop  and slammed it home to tie the score at 50-50.
Down the stretch under ten minutes, it was tied again at 54-54.
A quick 5-1 spirt by UVU took the lead back 60-55 at the seven minute mark.
Coach Madison had a precise game plan and execution to get high percentage shots  in the key off GCU's porous defense.
Too much Wolverine inside shooting and not enough  GCU defense was the biggest takeaway from the game.
Only hitting three shots beyond the arc won't win in most games and the Lopes needed that aspect.
GCU did make a furious run with under two minutes left with a 8-0 run to trim the deficit to 68-66 with 1;13 left.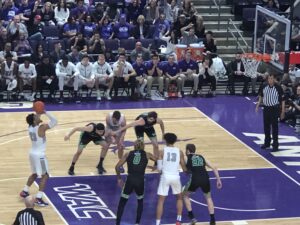 UVU got a key tip-in off a missed three to go back up by four. 70-66 with 44.1 seconds left and a Antelope timeout.
Branden Averette put the game on ice with two free throws as the Wolverines had  just too much shooting to overcome and UVU won 73-69.
Coach Marjerle was very disappointed in the lack of defensive effort on the Lopes. "Not shooting well, you must get defensive stops, we didn't do that."
GCU goes on the road for difficult but crucial three game road trip and returns back home on February 13th.