TEMPE, Ariz. – The Arizona State women's basketball team had its six-game winning streak snapped, falling to No. 18 Arizona 58-53 in Sunday's Pac-12 opener.
Eboni Walker (12 points) and Jamie Ruden(10 points) both scored in double figures for the Sun Devils (10-3, 0-1 Pac-12), who nearly overcame a nine-point deficit in the final five minutes however did not score in the game's final 1:06 after cutting Arizona's lead to a single point.
Walker came through with ASU's best performance of the day as the freshman forward was one of only two Sun Devils who shot 50 percent or higher from the floor: Walker was 5-of-6 shooting while sophomore guard Iris Mbulito (seven points) was 3-of-6. Walker also added a career-high eight rebounds.
Walker, Ruden and Mbulito combined for 29 of ASU's 33 bench points. Senior Ja'Tavia Tapley added eight points and tied Robbi Ryan for the team lead in steals with two.
For the 13th time in as many games the Sun Devils controlled the boards, finishing with a 47-41 advantage on Sunday. Walker's aforementioned rebounding effort paced ASU. Also contributing were Kiara Russell (seven rebounds), Jayde Van Hyfte (six rebounds) and Reili Richardson and Mbulito (five rebounds each).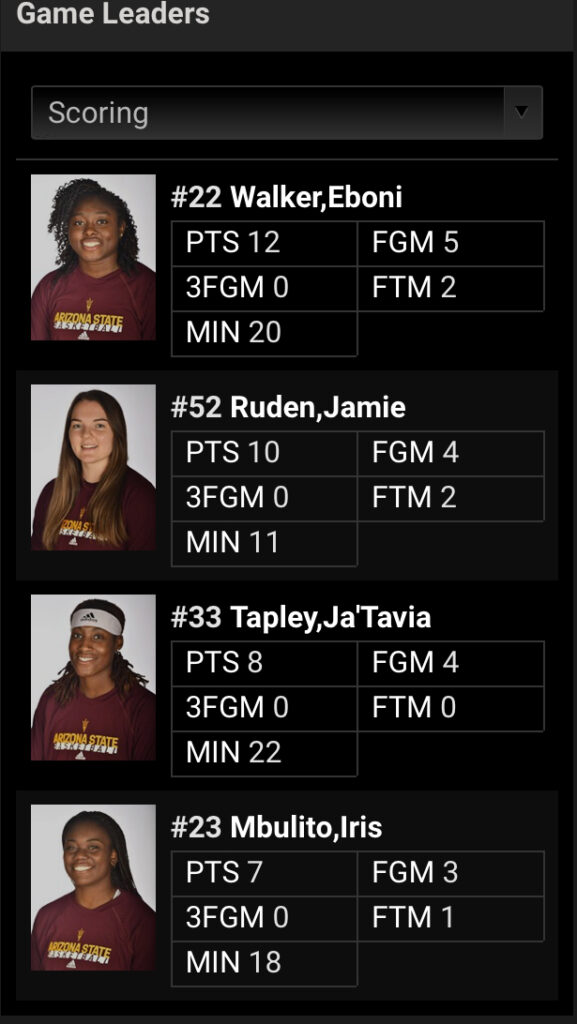 In a game in which it shot 30 percent from the floor, including 11 percent from behind the arc, ASU's chances of finding a way to come through with its 20th straight home win over Arizona was still a very realistic possibility after Mbulito's 3-point play cut Arizona's lead to six, 53-47 with 2:55 remaining. After getting a stop at the opposite end, the Sun Devils were suddenly within a single possession after Taya Hanson's triple cut the deficit to 53-50 with 2:16 left.
The Sun Devils got even closer after a press off a made throw resulted in a steal by Walker and a quick basket by Mbulito to get ASU within one point, 54-53, with just over a minute remaining.
Unfortunately for ASU, it could not extend its most successful stretch of the game any further. The Wildcats were able to close out the win, making 4-of-6 free throws in the final 36 seconds while the Sun Devils missed their last three shots and two free throws.
In a game that featured two of the nation's top defenses, the early stages of the game played out according to form. After a first quarter in which both teams combined to shoot 27 percent, the Sun Devils came away with a 12-10 lead. The Sun Devils scored nine of the game's first 11 points, but the Wildcats countered with an 8-3 run to close within two.

Neither team led by more than three points in the second quarter until right before the half when Aari McDonald, who had a game-high 20 points, scored in the final seconds to help Arizona take a 26-22 lead at the half.
ASU managed to shoot only 22 percent in the third quarter, but was able to stay within striking distance thanks to Walker, who scored half of ASU's 12 points in the period.
Arizona (12-0, 1-0 Pac-12) led by as many as nine points four times in the second half, but was never able to push its lead to double digits.
Up next for the Sun Devils is a trip to Los Angeles to take on No. 10 and unbeaten UCLA (Friday at 7 p.m. PT/8 p.m. MT) and USC (Sunday at 2 p.m. PT/3 p.m. MT). Both games can be seen on Pac-12 Networks and heard on KDUS AM 1060 and on the Sun Devils Athletics TuneIn Channel.