91 – Game Schedule Begins on March 7, 2020
(Tucson, AZ)  The Indoor Football League (IFL) is proud to announce its 2020 regular season schedule. The 17-week, 91-game schedule kicks off on Saturday, March 7 and concludes on Saturday, June 27.
Four new members join the IFL for the 2020 season. Two established teams are joined by two two new expansion members. The Spokane Shock return to the IFL and are joined by the accom- plished Duke City Gladiators. The Oakland Panthers and the yet unnamed team in Frisco, TX are the newest expansion members.
Together along with nine incumbents: Arizona Rattlers, Bismarck Bucks, Cedar Rapids River Kings, Green Bay Blizzard, Iowa Barnstormers, Quad City Steamwheelers, San Diego Strike Force, Sioux Falls Storm and Tucson Sugar Skulls, 13 teams will battle for the  2020 United Bowl crown.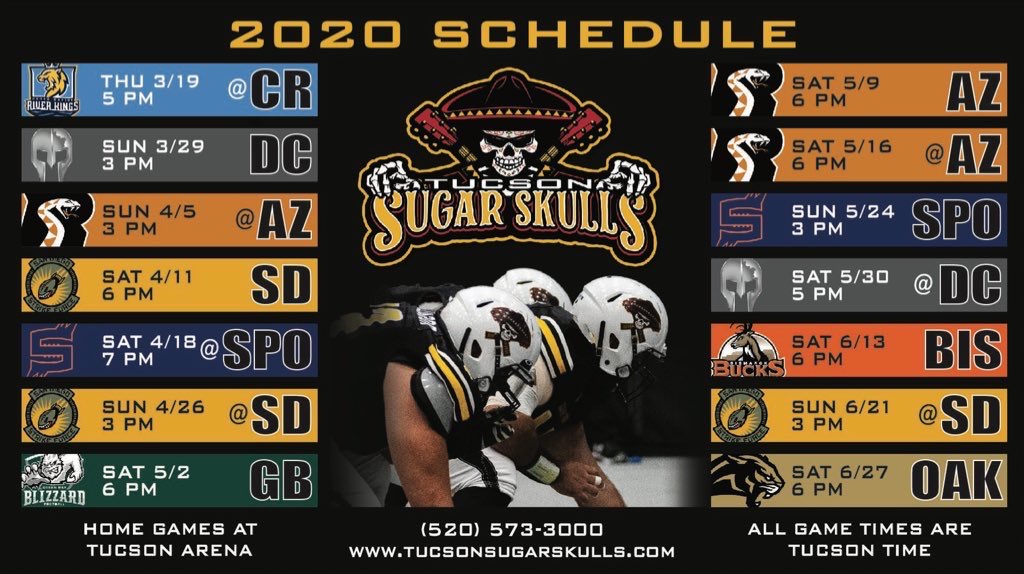 Each IFL team will play a fourteen (14) game schedule over seventeen (17) weeks. The teams will have three (3) bye weeks, which will occur sporadically over the course of the season.
All thirteen teams will belong in the same division in 2020 with the top eight teams qualifying for the postseason.
The first round of the playoffs will be held the weekend of July 4th as the #1 seed will host the #8 seed, #2 seed hosts the #7 seed, #3 hosts the #6 seed and the #4 seed hosts the #5. The highest remaining seeds will host the second round of the playoffs which be held the weekend of July 11th.
The United Bowl championship game will be hosted by the advancing team with the high- est seed and will be played during the weekend of July 25th.
Courtesy of the Tucson Sugar Skulls