(Tucson, AZ)  The Arizona women's basketball team is ranked No. 24 in the Associated Press poll this week, making it the first time since Dec. 6, 2004 that the Wildcats were tabbed as a top-25 team.
The Wildcats are off to their best start in 20 years as they have won their first six games of the season for the first time since the 1999-00 season and are coming off two-straight 35-point victories this week.
In the first six games of the season, Arizona has a scoring margin of +28.7, which is the second-highest in school history behind the 1995-96 team that had a scoring margin of +30.8 through their first six games.
The Cats have been led by Aari McDonald, who is averaging 22.5 points per game to go along with 5.2 rebounds, 4.5 assists and 2.0 steals per game. Cate Reese is also scoring 14.3 points per game and averages a team-high 7.7 rebounds per game.
Arizona plays just one game this week on the day after Thanksgiving as they will face UC Riverside on Friday, Nov. 29 at 4 p.m. MST in McKale Center.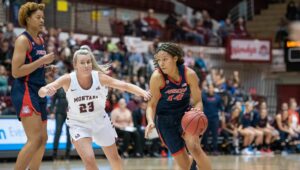 Associated Press Top 25
| | |
| --- | --- |
| 1. Oregon (28) | 4-0 |
| 2. Baylor (2) | 5-0 |
| 3. Stanford | 5-0 |
| 4. UConn | 5-0 |
| 5. South Carolina | 6-0 |
| 6. Texas A&M | 4-0 |
| 7. Oregon State | 5-0 |
| 8. Louisville | 5-0 |
| 9. Maryland | 5-1 |
| 10. Mississippi State | 5-0 |
| 11. UCLA | 4-0 |
| 12. Florida State | 5-0 |
| 13. North Carolina State | 5-0 |
| 14. Kentucky | 5-0 |
| 15. Michigan State | 5-0 |
| 16. DePaul | 4-1 |
| 17. Indiana | 4-0 |
| 18. Syracuse | 3-1 |
| 19. Miami | 4-1 |
| 20. Tennessee | 5-0 |
| 21. South Florida | 5-1 |
| 22. Gonzaga | 3-1 |
| 23. West Virginia | 4-0 |
| 24. Arizona | 6-0 |
| 25. Arkansas | 5-1 |
Courtesy of Arizona Communication Services