(Tucson, AZ)  Pima Community College baseball player JJ Rollon (Skyline HS) was selected ACCAC Division I Player of the Week on Monday.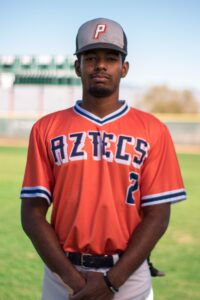 Rollon, a freshman outfielder, batted .476 (10 for 21) as the Aztecs went 4-2 for the week of Mar. 25-31.
He finished with four runs scored, three RBIs, a double, a triple, a walk and a stolen base.
He is batting .375 this season with 15 hits in 40 at-bats. He has two triples and six RBIs.
The Aztecs play an ACCAC Division I doubleheader on Tuesday at Cochise College in Douglas. First pitch is at noon.
Courtesy of Pima Athletics