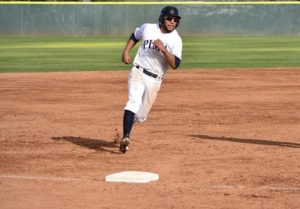 Tucson, AZ – The Pima Community College baseball team (10-12, 3-10 in ACCAC) competed in a back-and-forth battle with Glendale Community College (13-9, 5-8) but the Aztecs came up short on Saturday at the West Campus.
Sophomore Erick Migueles (Canyon del Oro HS) was a bright spot for the Aztecs as he homered for the third time in five games and finished the day 3 for 6.
Game 1: Glendale CC Gauchos 9, Pima CC Aztecs 8 (11 innings): The Gauchos scored on a bases loaded walk in the 11th inning and the Aztecs left a runner on third base to end the game.
The Aztecs tied the game in the third inning when sophomore Anthony Felix (Canyon del Oro HS) hit a two-run RBI double to tie the game at 4-4. Pima took the lead in the fourth inning when sophomore Manny Ramirez (Bisbee HS) hit an RBI single to plate freshman Jesus Solis (Nogales HS).
Down 8-5 in the sixth inning, Ramirez hit an RBI double and Migueles scored on a throwing error to make it 8-7. The Aztecs tied it in the seventh inning when sophomore Oscar Larranaga (Sunnyside HS) hit an RBI double to score pinch runner Jared Kromminga (Empire HS). After the seventh inning, the Aztecs left five runners stranded on base.
Ramirez finished the game 3 for 4 with two RBIs, two runs scored and two walks. Felix was 3 for 5 with three RBIs and a run scored. Migueles hit a solo home run in the first inning and went 1 for 3 with an RBI, two runs scored and three walks.
Freshman Isaac Lopez (Nogales HS) took the loss (0-2) in a relief appearance. He pitched four and one-third innings giving up one run (one earned) on three hits with one strikeout.
Game 2: Glendale CC Gauchos 6, Pima CC Aztecs 2 (7 innings): The Aztecs took an early lead but the Gauchos scored runs in the mid and late innings to take control.
The Aztecs took a 2-0 lead in the second inning when Larranaga hit a two-run RBI single to score sophomore Miguel Figueroa (Tucson HS) and freshman Marcus Mendez (Desert View HS). The Aztecs managed two hits after the second inning.
The Gauchos tied the game in the fourth inning with a run and tacked on two runs in the fifth inning and two in the sixth inning.
Larranaga finished the game 1 for 3 with two RBIs while Mendez went 1 for 3 with a run scored. Migueles was 2 for 3 for the game.
Sophomore Trevelle Hill (Tucson HS) pitched a complete-game giving up six runs (four earned) on nine hits with seven strikeouts and one walk.
The Aztecs will head back to Kino Veterans Memorial Stadium on Tuesday when they host GateWay Community College. The games will be at 4:00 and 6:30 p.m.